Reseller
Reseller
Reach out to the world's most reliable IT services.
Solutions for Information Technology
As a seller you are able to access Refurbished products and content data.
As Remarketed fulfilled reseller, make yourself flexible with multiple integrations to increase your presence in multiple online channels without losing control
We integrate with these ecommerce platforms
Remarketed Reseller Features
10.000 units in stock
We provide the most responsive and functional IT design for companies and businesses worldwide.
Next day delivery
It's possible to simultaneously manage and transform key information from one server to another.
Pick-up & Return warranty
Back up your database, store in a safe and secure place while still maintaining its accessibility.
24/7 customerservice support
Resources
Want to read more about Remarketed? Download the
Remarketed Whitepaper.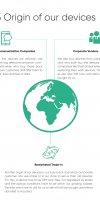 Testimonials
What makes people praise Mitech?


Today I received my MacBook Pro and I was very satisfied with the delivery, communication and quality of the renovated MacBook!
Delivered quickly! Due to mistake of myself ordered wrong color but could return easily and free of charge through a portal. Thanks for the Service
Received my MacBook today, indistinguishable from new! Super fast service respond quickly to Messenger and Whatsapp
Nintendo 3DS blue ordered. Delivered quickly in the package with the plastic still on it. All accessories included for a great price! Thank you Second chance!
4.9/5.0
by 700+ customers for 3200+ clients